Enhance your study programme
Opportunities for learning are everywhere, not just in the classroom. Your studies are central to getting you started on your desired career path, but at Franklin we offer more than a classroom via our vast, exciting Personal and Professional Development programme to support you on your journey to a dream future.

Develop your skills through a range of opportunities and experiences in-line with your aspirations and interests. Our huge range of extracurricular activities are available to all students as part of our fantastic Enrichment programme. The best thing about these activities is that they'll be based on things you love to do in your spare time and new things you'd enjoy trying. 
Pick from our professional and personal development programmes to help progress onto your next steps.​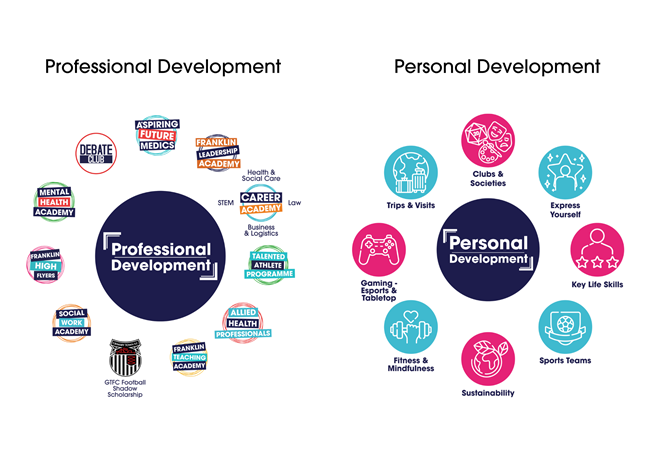 Making memories is all part of college life. Do you love watching films? Then you'll probably enjoy our cinema club. If you spend your evenings and weekends absorbed in esports, we have teams for that too. If a trip to New York or Rome is on your wish list, let's book the tickets. If you're a keen sports-person, get involved in our daily sports programme and regional sports teams. There really is something for everyone.
We also have opportunities to work with professionals and gain amazing work placement via our Centre for Professional Development and its fantastic links with employers – Law/Teaching/Aspiring Medics/Teaching Academy just to name a few. You can also complete the Extended Project Qualification alongside your Study Programme. Getting into the habit of enhancing your learning will set you up for a lifetime of amazing possibilities.
Personal and Professional Development
Get in touch with the Enrichment Team for more info!