Looking after your health and wellbeing
Being open about your health and wellbeing is widely encouraged in modern society, and Franklin is no exception.
Almost everyone faces one or more health or wellbeing challenges during their lifetime. Whether your issue is major or minor, our approachable Health and Wellbeing team members, or any of our team members throughout the college, are here to listen without judgement.
Even if you consider your health and wellbeing fine, you may want to learn how to recognise and deal with potential issues; our experienced staff can help with that too. We support Franklin students using the Thrive Model.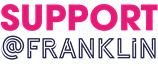 Get onsite support at

Franklin

 
Therapy Dogs are a well-established part of the college community. Therapy dogs are onsite daily to support our students with their wellbeing
Our Wellbeing Officer works with students to build emotional resilience when previous strategies have been unsuccessful, or a little more intervention is required, on programmes of support on a range of topics 
Counselling Services are available through CUDOX and our counsellor for those needing higher-level intervention
Support Groups such as our LGBTQ+ group and Male Wellbeing Group take place weekly
Quiet areas around the college are available for those who like somewhere peaceful to study and/or socialise
Our Student Peer Wellbeing Champions support their peers with low-level concerns
Emotional health and wellbeing focused Aspire sessions are integrated throughout the year, focusing on aspects such as resilience, healthy eating, healthy relationships, and self-care
Exam anxiety sessions are held throughout the year to help students manage exam anxiety
A huge and diverse Enrichment Programme is available to students to help students make friends, do something they enjoy, release stress, and have fun to support positive wellbeing. Find out about enrichment available here.
Local support 
Providing low intensity one-to-one or group work on a range of mild-moderate emotional health and wellbeing needs such as anxiety, low mood, managing emotions, transitions, relationship work and self-harm. We can refer as Franklin Sixth Form College or parents /carers and students can self-refer. Sessions then take place at college.
An online way of receiving wellbeing support and covers themes such as anxiety, low mood, and body image. 
A self-referral talking therapy that can support with conditions such as stress, anxiety, depression, post-traumatic stress disorder, obsessive compulsive disorder, panic attacks and sleep problems. Open Minds also have a SilverCloud offering of online therapy. 
Rapid Early intervention for Eating Disorders and is for 17.5 to 25-year-olds that have been living with the symptoms of an eating disorder for three years or less and has a GP with a NE Lincs postcode. 
Support for higher-level mental health and emotional wellbeing needs such as depression, anxiety, phobias, obsessive thoughts, thoughts of suicide, disordered eating and provide specialist support services for those with a learning disability, autism and ADHD.  
Lincolnshire-wide support
Free Food Providers
Support for

All


An online support intervention for mental wellbeing including access to articles, discussion boards, daily journals and live chats with trained counsellors in a safe and monitored community. 

A free, confidential 24/7 mental health text support service which can be accessed by texting SHOUT to 85258 or ORANGE to 85258 if you live in NE Lincs. 

Trained volunteers are there to listen to whatever you need to talk about that is causing you mental distress. Call 116 123 for free 24 hours a day, 365 days a year.  

A national helpline available 365 days a year from 9am to midnight weekdays and 4pm to midnight on weekends and bank holidays. To access the help line ring 0808 801 0677 or alternatively contact them for a one-to-one web chat. 

A helpline to emotionally support anyone affected by grief. They can be contacted for free on 0808 808 1677.

Providing support for transgender, nonbinary and gender- diverse children and young people up to the age of 20 and their families.

A LGBTQ+ helpline providing a safe space for discussions including sexuality, gender identity, sexual health and emotional wellbeing. 
Support on the

Go

 

We've specially selected a range of amazing apps to help boost your mental health, wellbeing, and emotional resilience over the summer and beyond. 

Daily self care is finally fun - take care of your pet by taking care of yourself.

A free app that helps you manage or resist the urge to self-harm. 

Through science-backed meditation and mindfulness tools, Headspace helps you create life-changing habits to support your mental health and find a healthier, happier you.

An innovative, personalised meditation experience that helps people improve their stress, sleep, focus, mood, and more. 

Record and track your moods with this simple, quick and easy mood tracker app. 

WHOLE is helping tens of thousands of people build healthier mental health habits that improve their overall happiness.

Empower yourself by verbally affirming your dreams and ambitions. Choose from many daily intentions and set reminders to be delivered throughout the day.

Get the world's most advanced app for sleep and power naps. Fall asleep fast, stay asleep, and wake up feeling refreshed.

Mindshine: Mental Health Coach

Develop positive thought patterns, find fulfilment and become happier, through guided mental health coaching.