Enhancing your personal and professional development
From the moment you walk through our campus doors, you'll have the full support of a fantastic Progress Coach to help with your personal and professional development. They'll do this as part of our Aspire Programme, which is a compulsory part of your Study Programme.
Compulsory, yes, but restrictive, no.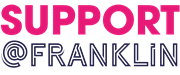 You'll attend group sessions and one-to-one sessions and carry out independent study and personal development, fully supported in your journey to becoming a well-rounded, highly employable young adult.
There'll also be guest speakers – a range of fantastic inspirational people – from business organisations to further education, making learning about available routes into employment something to look forward to.