Financial Support for our Students
Everyone in the UK is entitled to an education but what if financial obstacles get in the way of continuing your studies at 16 and beyond?
We cover essential course costs such as printing, textbooks, and equipment. But we also have a robust range of financial aid in place for any students who need extra support during their studies.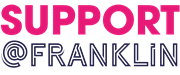 If you think you may be eligible for financial support, check out the information below:
Please select an item below to learn more.