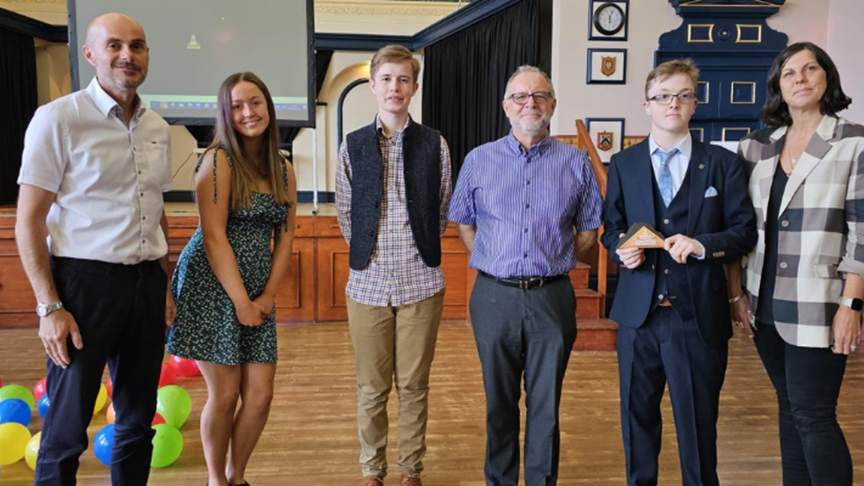 We're incredibly proud of our students who won awards at the second annual SEND Award ceremony.
These students are being recognised for their achievements regarding their education and personal development. Check out the list of winners below:
Phoebe Wattam – 'Student Personality of the Year'
For being a true inspiration and role model to all students Phoebe won 'Student Personality of the Year'.
Phoebe has persevered with her studies despite suffering a series of strokes when she was just nine years old. Despite these setbacks, she's shown extreme resilience after having to learn how to walk, talk, read, and write again.
Thomas Osborne – 'Environmental Award'
As part of the Sustainability enrichment group here at Franklin, Thomas helped champion the reduction of single-use water bottles.
He's also on a mission over the next year to discuss a reduction in the meat sold in our canteen as well as the introduction of energy-efficient lighting.
Thomas has done all of this whilst completing his courses here at Franklin showing a true passion for sustainability and the environment.
Robert – 'Educational Achievement Award'
Robert won this award for his dedication to his studies and striving to achieve his educational goals.
What are the SEND Awards?
Organised by Northeast Lincolnshire Council, the awards celebrate amazing children and young people across the region with Special educational needs and disabilities (SEND) as well as the unsung heroes that support them and their families.
You can find out more about the event by clicking or tapping here.
Our students were shortlisted from more than 180 nominations back in May and received their awards at a special ceremony last week.
Guests of honour included the town Mayor and Grimsby Town FC's very own, Harry Clifford. As well as delicious food, drinks, and no small amount of glamour, there was also an exciting disco, DJ, and games to get involved in.
Accompanying the winners on the evening were Jo North, Vice Principal for Pastoral, Gary Thomas Assistant Principal for Teaching and Learning, and our Principal Pete Kennedy.
Speaking after the event, Pete said: "I am so proud of our exceptional students who have rightfully walked away from the event with awards to show for their hard work and dedication. Each of them embodies our core values and they are an absolute credit to themselves, their families, and the college."
Judging
The YPAG Group is made up of children and young people in secondary school with who regularly meet to take part in activities. They met with a panel of special guests and notable figures from across the region to decide on the winners.
This included Rob Walsh, CEO at Northeast Lincolnshire Council, Councillor Margaret Cracknell Portfolio Holder for Children and Young People, and Jason Land from Grimsby Town Sports and Education Trust.
You can find out more about how we support students here. 
Image caption (main): (L-R) Gary Thomas, Pheobe Wattam, Thomas Osborne, Peter Kennedy, Robert, & Jo North
Image caption (banner): Phoebe Wattam & Rebecca Taylor (SEND Inclusion Lead - NELC)