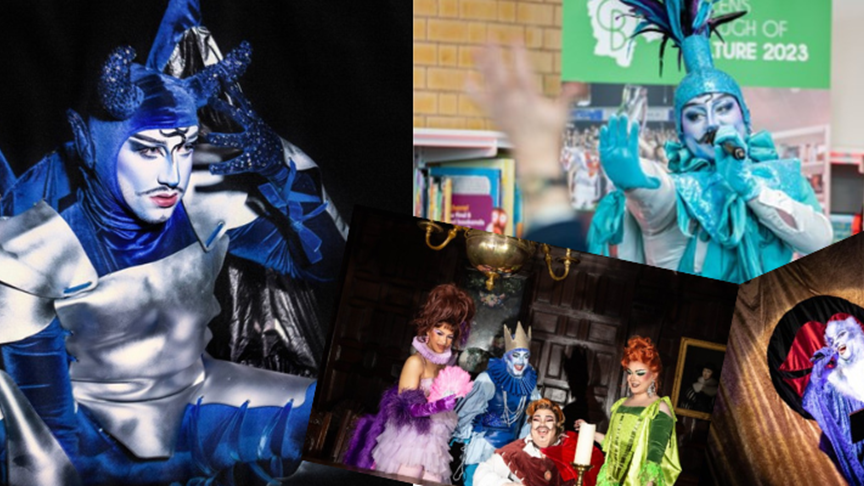 Former Franklin student Gabe Capes (they/them) is competing in the Drag Idol final this week in London.
You'll likely know Gabe better by their drag alter ego, Blü Romantic, having had their work featured in The Guardian and RuPaul's Drag Race UK.
Between 2011-13, they studied Performing Arts, English Literature, English Language, and Drama & Theatre Studies, at Franklin.
Speaking of their time with us, Gabe said, "Studying at Franklin provided me with a solid foundation on industry practices, devising techniques, and performance skills, which has helped shape the artist I am today!"
After leaving Franklin, they attended renowned music and drama school Birmingham Royal Conservatoire to study Applied Performance. As if that wasn't enough, Gabe also became president of the university's Contemporary Dance & Jazz Society.
Since then, Gabe has used their skills and passion for performance to generate theatre and cabaret work focusing on queer joy.
Working with Birmingham-based company Fatt Projects, they've been part of a variety of amazing shows. This includes MOBILISE!, an accessible, sober, queer dance party; PALAVER, a touring inclusive family show, and Send in the Clowns, a drag musical theatre review show.
Not one to rest on their laurels, Gabe has also starred in their one-person cabaret show, and produces costumes for both theatre and cabaret.
Join us in wishing Gabe the very best of luck in Drag Idol.
Running since 2004, Drag Idol is the national annual competition to discover new acts on the UK LGBT+ cabaret circuit.